Hints & Tips About Turkey
---
Passport/Customs
All visitors must have a valid passport. US citizens are required to have a visa. Visas can be obtained with the payment of 20 USD from the visa desks in international airports and ports.
It is stricly forbidden to take antiquities and historical treasures out of the country. Certain articles may only be exported by permission of Directorate of Museums and Antiquities.

Public Holidays
Jan 01 New Years Day
Apr 23 Independence & Childrens Day
May 19 Youth & Sports Day
Aug 30 Victory Day
Oct 29 Republic Day

Religious Holidays
Annual Fasting Holiday End of Ramadan, Sacrifice Holiday End of Muslim Pilgrimage. Both subject to Lunar Calendar.

Work Hours
In general work days are Monday through Friday. Most businesses and banks are open from 9.00 am to 5.00pm. Close for lunch from 12.00 noon till 1.00 or 1.30 pm. Friday is a relgious day but businesses and shops are open. Shops may have longer hours and open through the week except Sundays.
Area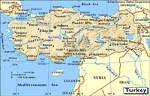 780.000 sq. km. (300.000 sq. miles)
97% in Asia, 3% in Europe.
Borders
Georgia, Armenia, Iran, Iraq, Syria, Bulgaria and Greece.
Peninsula
Surrounded by Black Sea, Maramara, The Aegean and the Mediterranean.
Straits
Bosphorus, Dardanelles
Landscape
Coastal fertile lands, north south forested, central plateau, eastern mountainous.
Climate
Combination of four different: Continental, Oceanic, Mediterranean and Mountainous. Weather conditions vary according to the season and region.
Population
Over 60 milion
Capital
Ankara
Main Cities
Istanbul, Izmir, Antalya, Adana, Bursa
Language
Turkish. It is written with Latin characters.
Religion
99% Moslem, Rest Greek Orthodox, Roman Catholic and Jewish. In addition to the mosques , Greek Orthodox , Roman Catholic Churches and Synagogues are available to the worshippers.

Currency
The monetary unit is Yeni Turkish Lira (YTL.) The coins are 0.25 , 0.50 , 1.-, and the banknotes are in 5-, 10- , 20.- , 50- and 100-.
Exchange
The exchange rates for the foreign currencies are published daily. You can exchange cash and Travelers cheques at the hotel cashier. Banks are open between 09.00am-12.00noon / 01.30-05.00pm. The exchange slips for the conversions should be kept since you may be required to show these when converting your Turkish money back into foreign currency.
Credit Cards
American Express , Dinner`s Club , Mastercharge and Visa credit cards are honored by the wellknown Restaurants and the Stores . Check before purchase.
Shopping
Shops and stores are open Monday thru Saturday from 09.30am till 07.00pm. Cash, Traveler`s Cheques and the major Credit Cards are welcomed by the Stores. There are variety of goods you can purchase such as Oriental carpets, Leather wares, Costumes, Gold and Silver Jewelry, Brass and Copper Works, Silk etc. Articles you purchase may accompany you or be shipped and delivered to your door with full coverage by the large stores. Turkey is a G.S.P. (Generalized System of Preference) country . This is a system to help developing countries to improve their economic conditions thru foreign trade. We do advise you to get certificate with your purchases of goods manufactured and produced in Turkey such as Carpets and Jewelry.
V. A. T
The value added tax 18 % is applied to all services and purchases.
Tipping
It is customary to tip an extra of 10 % for all services delivered.
Taxis
All of the taxis have meters. Available at taxi stands.
Phone Calls
Automatic dialing is possible anywhere in the country . Reduced rates are applied in the evening and early mornings . For local , trunk and international calls token-jetons-should be obtained . Telephone Cards are also available.
Local Time
G.M.T. + 2 Hours
Measures
In Metric System - Kilogram and Meter.
Electricity
220 Volts AC. Cycles 50 Mz.
Tap Water
It has been chlorinated but may have strong taste. Bottled spring water is suggested.
---