Istanbul is a romantic, exotic metropolis of the first order, and an ideal ambassadorial gateway for a country balancing dramatic history and modern progress on the world stage. It is divided into two distinct realms, which need to be understood on their own terms before a full picture comes into focus. This itinerary of romance and history introduces both in separate phases, sandwiching an exciting trip to the modern port city of Kusadasi and its surrounding ancient ruins for some perspective on Turkey's past and present. It is also an itinerary of true luxury, visiting three of the best hotels in the country, with guides, friends, well-deserved pampering, and excellent food along the way.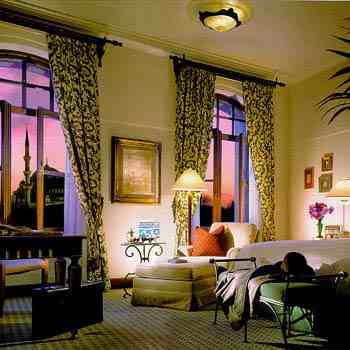 After a comfortable flight you'll arrive in the modern Istanbul airport, and will be welcomed by a friendly transfer to your hotel. Savor a romantic dinner in your hotel. During your next two days you will explore the mosques, ruins, wonderful markets of the old city and a cruise on the bosphorus. Your first days in the city will acquaint you with local customs, values, and food, and you will hear wonderful stories of things to come.
Your next stop will be the port city of Kusadasi on the Agean, accessible by a short flight. You'll once again be welcomed by private transfer and conveyed to your hotel in Kusadasi, affording amazing views of the sea, city and countryside. Your personal guide will work with you to solidify a completely customized regimen of activities in and outside of the city such as a full-day private tour of the amazing Roman ruins of the countryside, including such famous sites as Ephesus, House of Virgin Mary, Basilica of St. John...
Finally, you will return to Istanbul, this time visiting Beyoglu, the modern quarter of the city, with its European embassies and postmodern skyscrapers. Relax with the beautiful people by day and sleek bars and nightclubs by night. Here, you'll have the chance to see dance and theater performances, as well as to shop for anything your heart desires. You can also take a ferry to another continent - the Asian side, with its boutique shops, tree-lined streets and the summer palace of the Sultan.
Athens option: This itinerary can also be usefully prefaced by a stay in Athens, a more European introduction to the Aegean. In such a scenario, we recommend two or three nights in Athens. Here, you would enjoy olives and ouzo on the dining terrace, visit museums and ruins to learn about the cultures of Greece and the Roman Empire, and have a night at a fine restaurant and the opera, before flying to Istanbul for the start of the above itinerary.